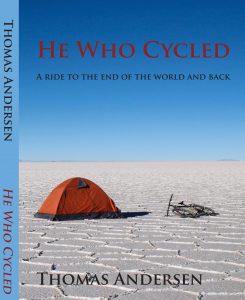 The book about the cycling adventure is now available!
Title: He Who Cycled
– A Ride to the End of the World and Back
Author: Thomas Andersen
Type: Paperback, 212 pages with 52 color photos
Price: 23 EUR + shipping
To buy a signed book directly from the author, click on the Buy Now button above. You don't need a Paypal account as it is possible to complete the purchase with only a credit card by following the instructions.
The system will add 3.50 EUR for world wide shipping (and the book will be sent from Germany).
---
From the rear cover:
In October 2010 I left Denmark by bicycle not knowing what to expect. 6 years later I returned after having cycled 58,201 kilometres through 58 countries on 6 continents. Initially I was drawn in by the sense of freedom – of being out in the open air while having the opportunity to let my thoughts run free. On my bike I got the chance of experiencing the environment I travelled through at first-hand; the ever-changing landscapes, the hills, the weather, the food, and the way people reacted when they saw me.
The ride turned out to be a journey of both internal and external discovery. There was an element of adventure, of getting closer to my limits and discovering what I was capable of, but more importantly I wanted to go out there and use my senses. The media often print a disturbed picture of the world while focusing on war and natural disasters. This book describes what I saw with my own eyes.
Finally, this was simply my dream, and we should all follow our dreams.